A warm welcome from Buenos Aires!
Move seamlessly in Argentina's capital. Sheraton Buenos Aires Hotel & Convention Center sits on the corner of Av. Eduardo Madero and San Martín with short drives to Ministro Pistarini International Airport (EZE). Travel effortlessly to Jardín Japonés, Recoleta Cemetery and Av. del Libertador with our local train and bus transit. Retiro Railway Station, and Metro Line C are walking distance from our hotel. Explore on your own with nearby car rentals and on-site parking.
Venue address
Sheraton Buenos Aires Hotel & Convention Center
San Martin 1225/1275,
Buenos Aires,
Argentina, 1104
How to get there
From the Airport:
If you are coming to Argentina from abroad, you will probably be arriving to Ministro Pistarini International Airport EZEIZA (EZE).

Taking a taxi from Ezeiza International Airport:
When you arrive at the Ezeiza International Airport, make sure to avoid any problems that may arise by taking a taxi outside the airport.
Please take a car from the official transportation booths inside the airport, once you go through customs. The booth will offer a fixed rate and you can pay for the service before leaving the terminal.

Regional and domestic flights may arrive to Aeroparque Jorge Newbery (AEP). The official transportation booths inside the airport are strongly recommended.

Within the City:
You can easily arrive by train (San Martín Train, Retiro Station), metro (Line C & E, Retiro Station), bus (any bus arriving to Retiro Station which is one of the main stations in the city), taxi (recommended taxi company: Taxi Premium +54 3546 63-8153), transportation Apps like Uber and Cabify are of common use too.
Metro map: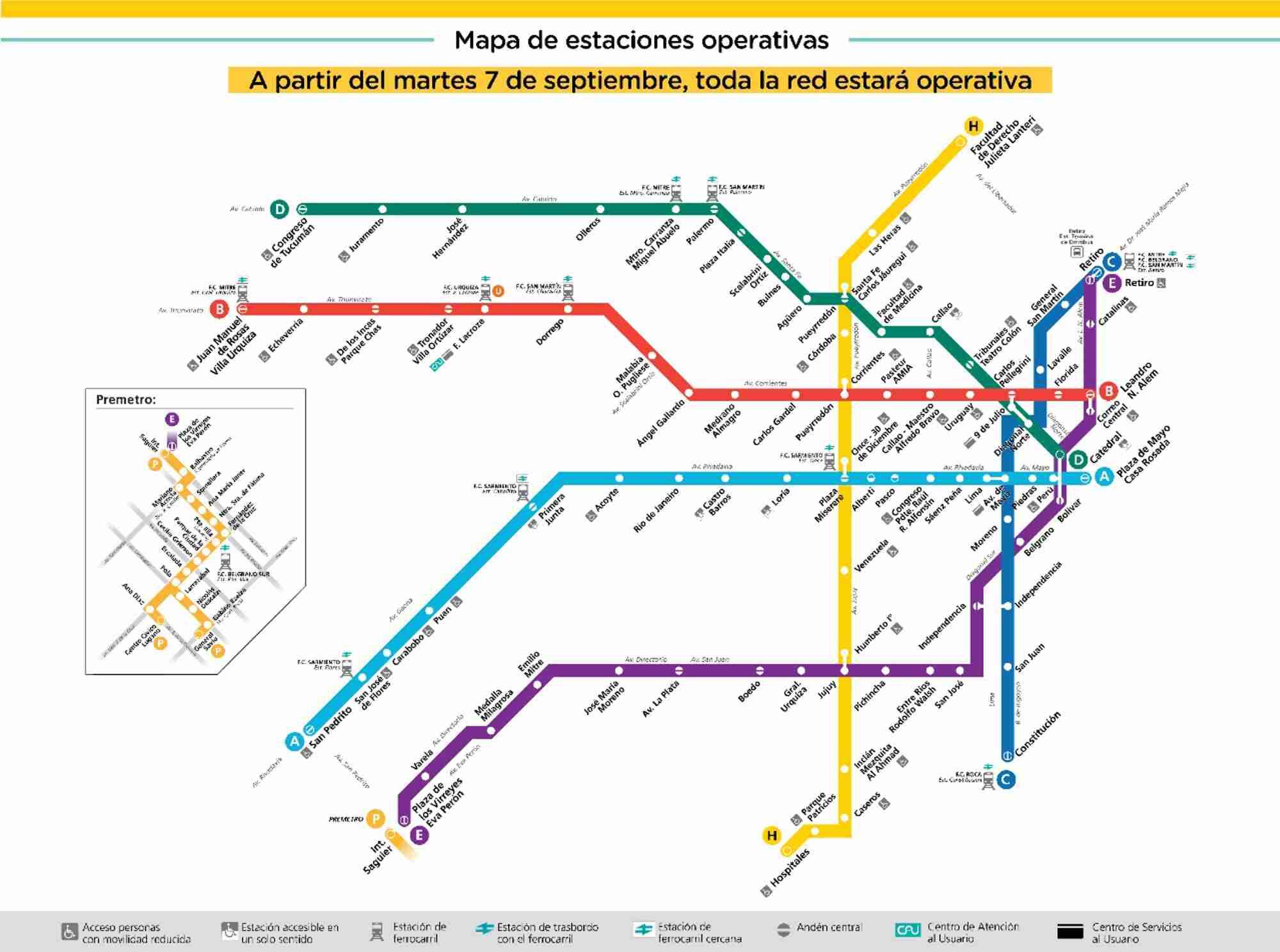 Airport information
Ministro Pistarini International Airport, Ezeiza (EZE)
Hotel direction: 33.9 km SW
This hotel does not provide a shuttle service.
Estimated taxi fare: 40 USD (one way)
Driving directions
Sheraton Buenos Aires Hotel & Convention Center
San Martin 1225/1275
Buenos Aires, 1104 Argentina
Parking
On-site parking, fee: 5 USD hourly, 20 USD daily
Other transport
Car rentals nearby:
Budget:
Cerrito 1535, Buenos Aires C1010ABE.
Phone: +54-11-4326 5542.
Cell Phone: +54-911-5944 0032.
E-mail: cerrito@budget.com.ar 
Web: https://www.budget.com.ar/oficinas/oficinas-argentina
Hertz
Paraguay 1138, Buenos Aires C1057AAR
Cell Phone: +54-911-7090 4000
E-mail: operaciones@hertz.com.ar
Web: https://www.hertz.com.ar/alquiler-de-autos-en-argentina/alquiler-de-autos-en-buenos-aires-centro
Avis
Cerrito 1535, Buenos Aires C1010ABE.
Phone: +54-11-4326 5542.
Web: https://www.avis.com/es/locations/ar/buenos-aires
Area & Activities
Thrive in the city center. Sheraton Buenos Aires Hotel & Convention Center is walking distance from museums, parks and the Rio de la Plata.
https://turismo.buenosaires.gob.ar/en.
COVID-19 Policies and Measures
Travel to Argentina
Currently, Argentina's borders are open to all international travellers, so long as they comply with current entry requirements. For Visa requirements, please see http://www.migraciones.gov.ar/accesible/indexdnm.php?visas
There are no vaccination or testing requirements currently in force for travellers entering Argentina. Please note that these measures are subject to change, and should be consulted directly in the days leading up to international travel.
https://cnyor.cancilleria.gob.ar/en/requirements-entry-argentine-republic
COVID-19 
Since August 24th 2022, it is NOT required to present anymore either the affidavit "Declaración Jurada", a COVID-19 test, or a COVID-19 health insurance to enter Argentina for Argentine Citizens, Foreign Residents and Non-Resident Foreigners.
For updated COVID-19 epidemiologic situation, see https://www.worldometers.info/coronavirus/country/argentina/
Disclaimer/Liability
The Organising Committee and Bioscientifica cannot accept liability for injuries or losses of whatever nature incurred by participants, nor for loss of or damage to their luggage and/or personal belongings. Please check the validity of your own travel insurance. All reasonable endeavors will be made to hold the IMPE 2023 Meeting and to present its programme as scheduled under circumstances which assure the comfort and safety of all participants. However, neither the Meeting nor its committees, representatives or agents, shall be held liable by any person as a result of the cancellation of the IMPE 2023 Meeting or of any of the arrangements, programmes or plans connected therewith, or for any injury, damage or inconvenience which may be suffered by any person while travelling to or from, or during such person's presence in connection with this Meeting. Participants are fully liable for damages caused to third parties and property. All delegates should have a valid, fully comprehensive third party liability insurance.
Tourist Information
Language: The official language of Argentina is Spanish.
Electrical current in Argentina is 220 volts, 50-cycle alternating current. Power outlets have 2 cylindrical holes or 2 flat holes with ground.
Time zone: corresponds to GMT-3 and currently no change in the summer months. In some provinces the schedule changes in the winter months.
Sanitary level: the water is potable. Public hospitals (which are available for tourists) emergency service 24 hours a day for free. 107 is the emergency ambulance service (SAME) it is free and can call toll-free 24 hours.
Tourist Information Centers: They offer maps, guides, brochures in several languages and all necessary information to enjoy your trip.
For more information about tourism:
https://www.argentina.travel/en/page/frequent-questions